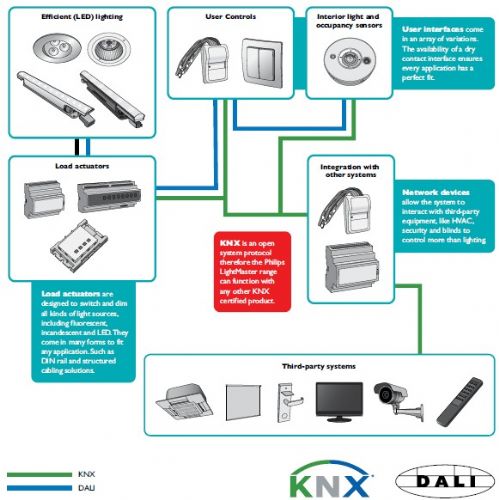 The Philips LightMaster range has been developed to ensure easy integration
into today's modem office environment,for either retrofit or new installations by maximising the effectiveness of KNX and DALL.The Philips LightMaster range now brings additional solutions to the
KNX world including:
■ dimming actuator solutions that allow the user to decide which ighting protocol output they want to work with, including DALI ddressed, DALI broadcast, DSI and 1-10v.
■ a true structured cabling solution to bring the benefits offaster installation, commissioning and reduced costs
■ low profile aesthetics to the sensorrange,reducing ceiling clutter without ompromising performance.
The LightMaster office based controls system is fully scalable and suited to both large and small installations.