LightMaster sets a new benchmark for maximising comfort whilst minimising energy use with KNX and DALI.

FuLL scalable and robust
Multiple KNX network lines can be linked together to form one larger system. A main line and line network topology allows for both a scalable and robust network architecture. Many different integration opportunities are available via the KNX standard as well as gateways to third-party systems. With integration the BMS can trigger timed events and check the system current status.

The introduction to the KNX world of a fully structured cabling solution brings big benefits for all stakebolders in project delivery and operations. Additional types of Philips LightMaster load actuators can be used simultaneously on the same KNX network to control other types of lighting with options including: DALI, DALI broadcast, DSI and 1-10V for other styles of dimmable lamps and relay actuators for any type of switch load and window blind control.

Intelligent network connections
All Philips LightMaster range network devices are connected together using the industry standard KNX approach. This allows all the LightMaster devices to pass messages between each other on the KNX network as well as onto the DALI bus network via the DALI load actuators for adjusting the current lighting control setting. User interface panels, including those third-party devices can be connected via the LightMaster KNX and DALI Dry Contact Interface to directly change the current lighting control system status. The DALI solution reduces field installation costs by having sensors and dry contcact user interfaces available on the DALI network.

Uitimate controlfrom a single panel
From any one lighting control panel an end-user can take control of the whole system if required and this can be programmed accordingly. This can be useful for turning off programmed accordingly.this can be useful for turning off allthe lighting at the end of the day.sensors(PLOS-CM-KNX & PLOSCM-KNX)will automatically adjust the lighting depending on detected motion or the current measured light level. A sensor can not only control its own logical area but also pass messages onto adjacent areas holding on corridor lighting or taking light level measurement for multiple logical area control. In developing the LightMaster range Philips have developed a range of products that utilise not only the KNX network, but also the DALI lighting control network to communicate between user interfaces such as sensors and pushbutton panels. This not only reduces the system complexities but can also cut the required network field wiring by half.
Switching Actuator control solutions
PDRC416FR-KNX / PDRC816FR-KNX / PDRC1216FR-KNX
Dimming control solutions
PDLPC416FR-KNX / PDBC120-DALI-KNX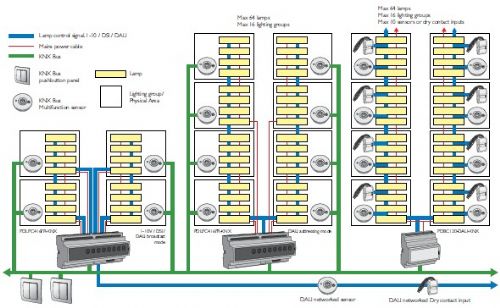 Dimming control and structured cabling solutions
PLPC905GL-3-KNX, PLPC905GL-3-HD-KNX & PLPC905GL-4-KNX,PLPC905GL-4-HD-KNX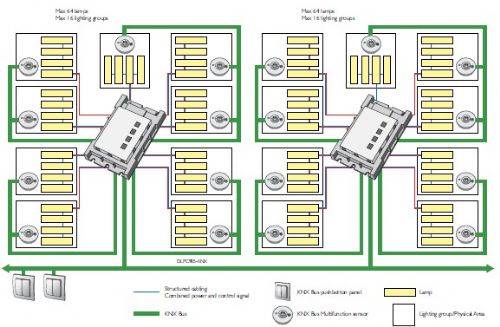 KNX Bus structure